OVERVIEW

In this guide we will show you how to migrate all your old LMS data to Pluto LMS through various features and tools that we have available on the LMS.


USE CASE EXAMPLE:

A well-established educational institution has been using an older, outdated LMS for several years. While the old LMS served its purpose in the past, it lacks modern features, user-friendliness, and the ability to integrate with new educational technologies. The institution decides it's time to switch to a new, more advanced LMS that can better support their current and future needs.

STEPS TO ACHIEVE THIS

> User Import (Uploading all the users from your old LMS to Pluto LMS)

> Data Prep and Historic Data Import (Prepping and Uploading all data through excel/sheets etc. into the LMS)
> Course Enrollments (Where applicable and where grades need to become part of the LMS reporting system)
> Grades Import (Where grades can be bulk uploaded into the LMS - Those that need to be part of the Reporting System)
IMPORT/UPLOAD USERS TO YOUR LMS

In order for you to add historic user data to Pluto LMS from your previous LMS, you first need to add/upload all the applicable users to Pluto.

This can be done manually (one-by-one) or through a bulk upload.

(If you have specific user fields that is required when uploading users to Pluto LMS, you can add those fields through Custom Profile Fields) These custom profile fields can then be added to the bulk upload of the users.

Here are 3 guides you can follow to achieve the above,
DATA PREP AND UPLOAD
In this step we will show you how the data should be prepped in order to import it into Pluto LMS through excel/sheets into our Data Table Tool.

Here is the guide on how to create a Data table on the LMS and how to bulk import the entries,

The most important thing to note is to make sure that the excel sheet you are using corresponds with the Data Table (Columns) that you have setup.

For example, if your Historic Data consists of the User's first name, -last name, Course name and progress. You Excel/Google sheet and your Data Table should both consist of these fields.

Example of steps and outcome below,

What the Field names look like on the Data Table in the LMS,


The Excel of Google Sheet File,


What the Table looks like after the data entries has been imported into the LMS,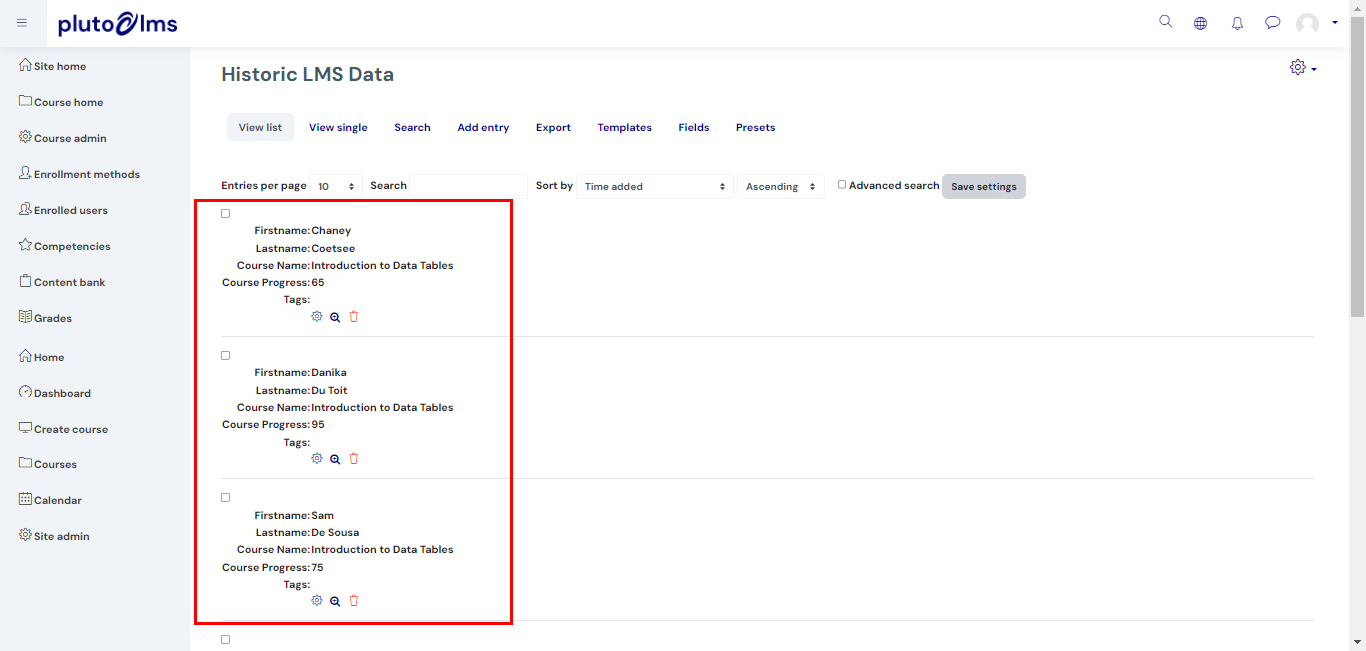 NOTE: Pluto LMS can not assist you in prepping your data for the import. This is out of our scope and we can only guide on the steps that should be followed for this process
COURSE ENROLLMENTS

Then we get to importing Historic Grades from previously used LMS's. In order to do this you will need to make sure that the applicable users are enrolled into the course where your grades will be setup.

Because there isn't a specific tool for importing Grades that become part of the Reporting of the overall site, you need to re-create a course where you can add these learners and bulk import their grades.

To do this you can follow these steps,

After doing the first step in this guide (Adding all the users to the LMS).
> You will create the course (Maybe call it something like Historic Grades or whatever your requirements may be) and create the necessary activities which is in line with the grades. For example, adding a assignment activity where old assignment grades will be added or adding a Quiz activity where old Quiz grades will be imported. (Quiz and Assignment are just being used as an example in this guide)


Ensure that when setting up the course and the activities that you setup the activity completion, -course completion and the grade requirements correctly. This will have a big impact on your grades that are being imported as well as the course completion reports. You can follow this
course completion guide
to set up the course completion requirements and you can setup the activity completion requirements within each activity.
> Then you will enroll all the applicable users into the course (All users whose grades will be imported for reporting purposes and related to these specific activities).
> After the users were enrolled into the course and the necessary activities were created, you can then bulk import your grades.
Bulk import grades
(The next step is a detailed guide on how to bulk import the grades)
GRADES IMPORT
>
Create a course
called Historic Grades or whatever your requirements may be,
> Go to the "Grades" Tab in your left-hand menu, (Gradebook Overview)

Make sure that your Export and Import file format is the same otherwise a error will occur and then data will not correspond.
> Click on "Export" to export all the applicable grades and users,
> Once you have the excel sheet open, manually add all the historic grades into the sheet (Percentage, Points etc. Depending on your Grades setup)
> After the sheet is complete, click on "Import" in the Gradebook settings and import the grades.
To bulk import the grades, you can follow
this guide
(This is a detailed guide for the above steps).
The above mentioned steps will assist you in importing Historic LMS data into your new LMS.
If you do however get stuck or require some guidance and the abovementioned is not working, please feel free to contact us on
support@plutolms.com
.