Directly Upload Video Files
OVERVIEW

Video creates high engagement with students and is a powerful tool to use in your Pluto LMS courses. Video files can be directly uploaded to your LMS. T
o optimize your site performance we highly recommend using YouTube or Vimeo to host your video content. This will also save storage on your LMS plan.

Use Case Example:

As a training manager, you can leverage the power of video to create high levels of student engagement and enhance the effectiveness of your training programs.

For example: You have created or edited a product demonstration video on Canva but have saved it on your personal laptop and would like to present it to your end users. This tool seamlessly enables you to upload the file directly to the LMS, without using an external video processing platform. This can also be used to showcase best practices or provide instructional content.

This tool empowers you to create a rich multimedia learning experience for your employees, resulting in improved knowledge retention and enhanced performance within your organization.
DIRECTLY UPLOAD VIDEO FILES

WARNING: This is not recommended as it will use a lot of storage space on your LMS plan and affect your site speed if you do not have a fast internet connection.
Step 1:
In the relevant course, click on "Edit course material."
Step 2:
Under the relevant module, click on "Add course content."
Step 3:
Click on the "Page" activity.
Step 4:
Give your video (1) a name and (2) click on the media icon.
Step 5:
In the (1) "Video" tab, click (2) "Browse repositories" to upload your video file.
Optionally, (3) set your display options and other settings and then click on (4) "Insert media."

Tip:
A recommended display option is 700 x 700 so that the video will fit multiple device sizes.
Step 6:
Once the video is uploaded, it will appear black. That's okay. Click on "Save and display."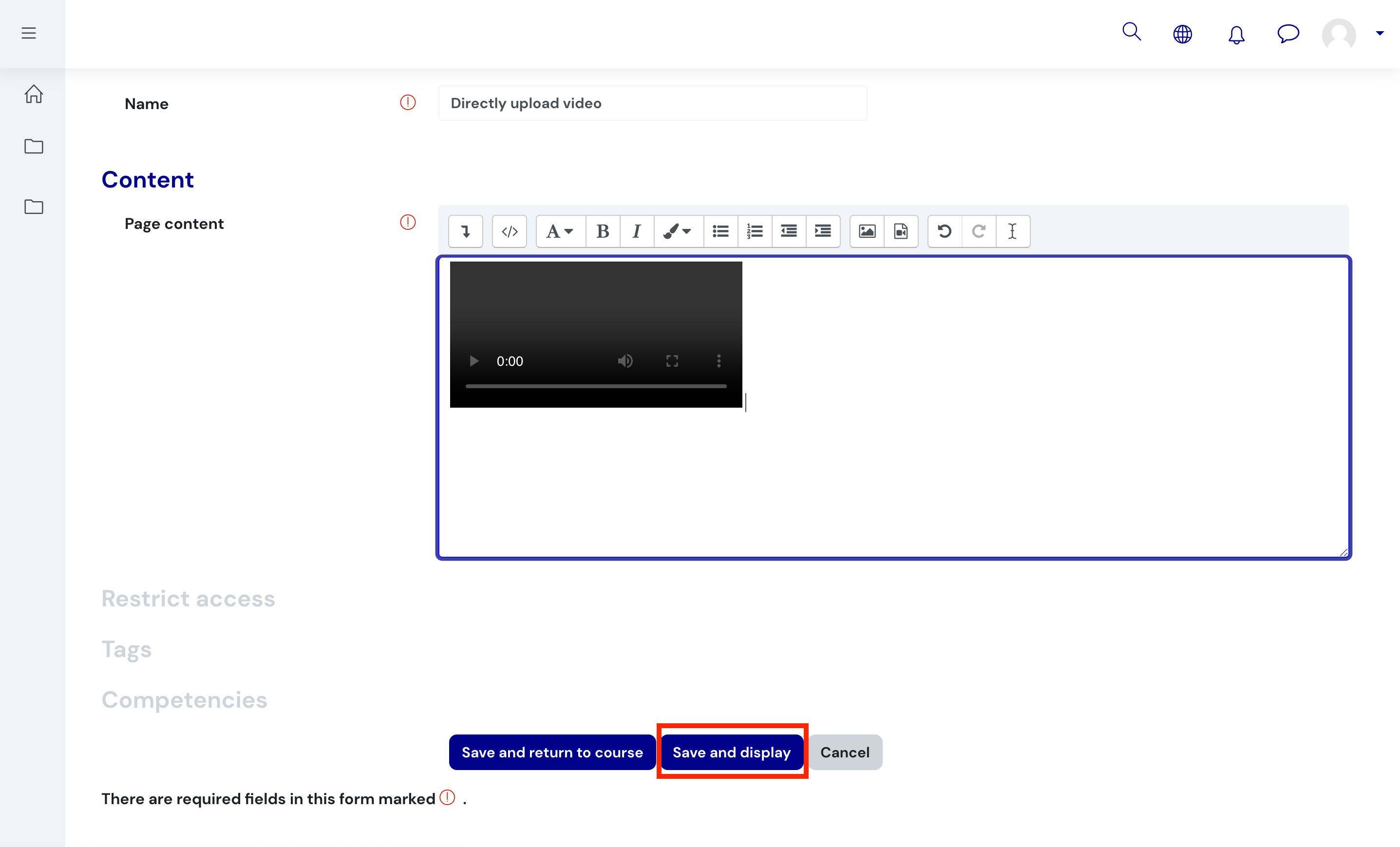 Related Articles

Uploading Files into a Course

OVERVIEW You can add Excel, Word, PDF, PowerPoint, and other accepted file formats to your courses and (optionally) give your end-users the ability to download your course material. Use Case Example: You as a training manager are responsible for ...

Embed Video Code

OVERVIEW Video creates high engagement with students and is a powerful tool to use in your Pluto LMS courses. Depending on the 3rd party video tool, videos can be embedded into Pluto LMS pages. Use Case Example: As a training manager, you can ...

Other Video Call Setup

YOU CAN LINK ANY SECURE VIDEO CALL URL INTO PLUTO LMS: If you don't use any of our native video conferencing integrations, no worries! Just get your meeting URL with instructions and add it as a link to your course. USE CASE EXAMPLE: New Product ...

Upload a SCORM Package

OVERVIEW SCORM (Sharable Content Object Reference Model) is a collection of specifications that enable interoperability, accessibility and re-usability of web-based learning content. The SCORM activity allows teachers to upload any SCORM package to a ...

Bulk Upload Users to Your LMS

OVERVIEW If you're required to upload multiple users onto your LMS at the same time, you can do this via the Bulk upload tool. This is done through a text (CSV) file. Use Case Example: As a training manager, In a large corporate organization, in the ...