OVERVIEW

A pie chart is a circular graphical representation used to display data as a proportional distribution of categories. The chart resembles a pie, with each category represented as a slice, where the size of each slice corresponds to the proportion or percentage of the data it represents.

Pie charts are commonly used to represent data with a limited number of categories, typically no more than seven to ten, as larger numbers of categories can make the chart cluttered and difficult to interpret. They are especially useful when the focus is on illustrating the relative proportions or percentages of each category within a whole, making it easy to compare and understand the distribution of data at a glance.

CREATE A PIE CHART
Step 1: Access the Charts Section,

> On the top of the page, select the "Charts" option.

Step 2: Create a New Chart,

> On the Charts page, click on the "+Chart" button to initiate the creation of a new chart.

Step 3: Select a Dataset,

> In the "Dataset" section, click on the dropdown menu and select the dataset you want to use for your pie chart.
Step 4: Select "Pie Chart" as Chart Type,

Step 5: And "Create new chart".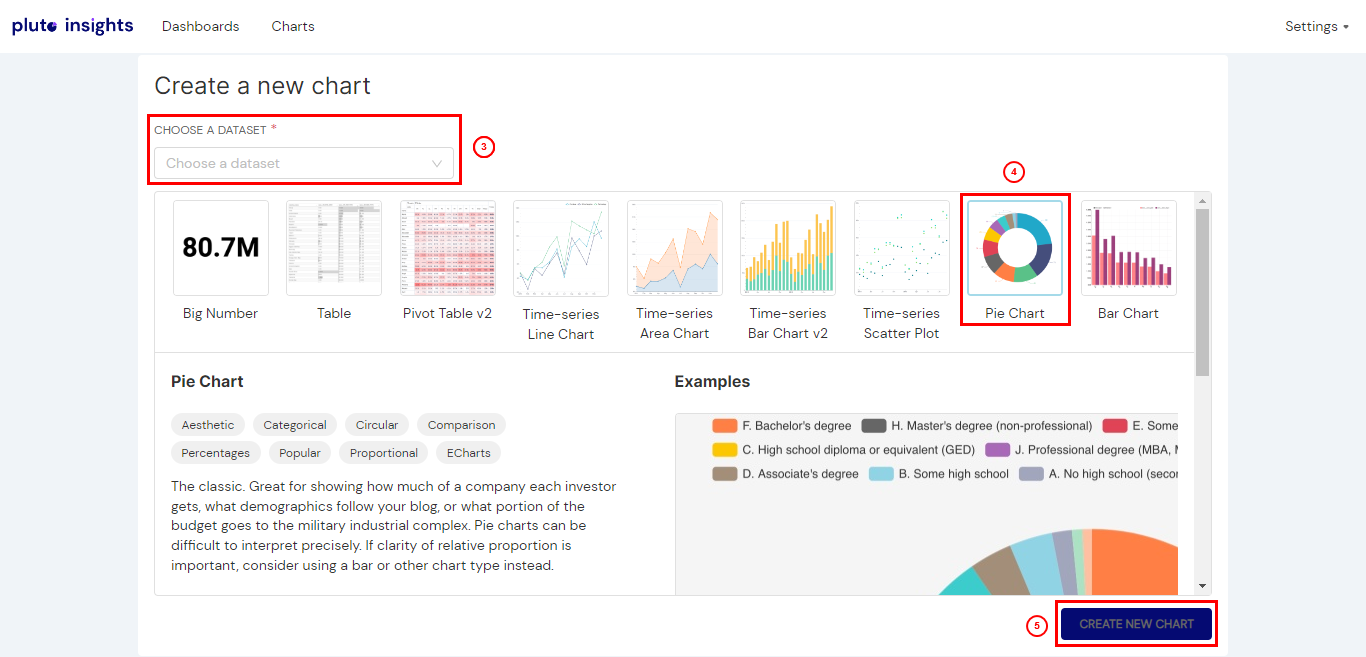 Step 6: Specify Your Metrics,

> In the "Metrics" section, click on the "Add" button.

> From the dropdown menu, select the metric you want to display in your pie chart.

Step 7: Define Your Group By Columns,

> In the "Group By" section, click the "Add" button.

> From the dropdown menu, select the column(s) that you want to group your data by. These will form the different sections of your pie chart.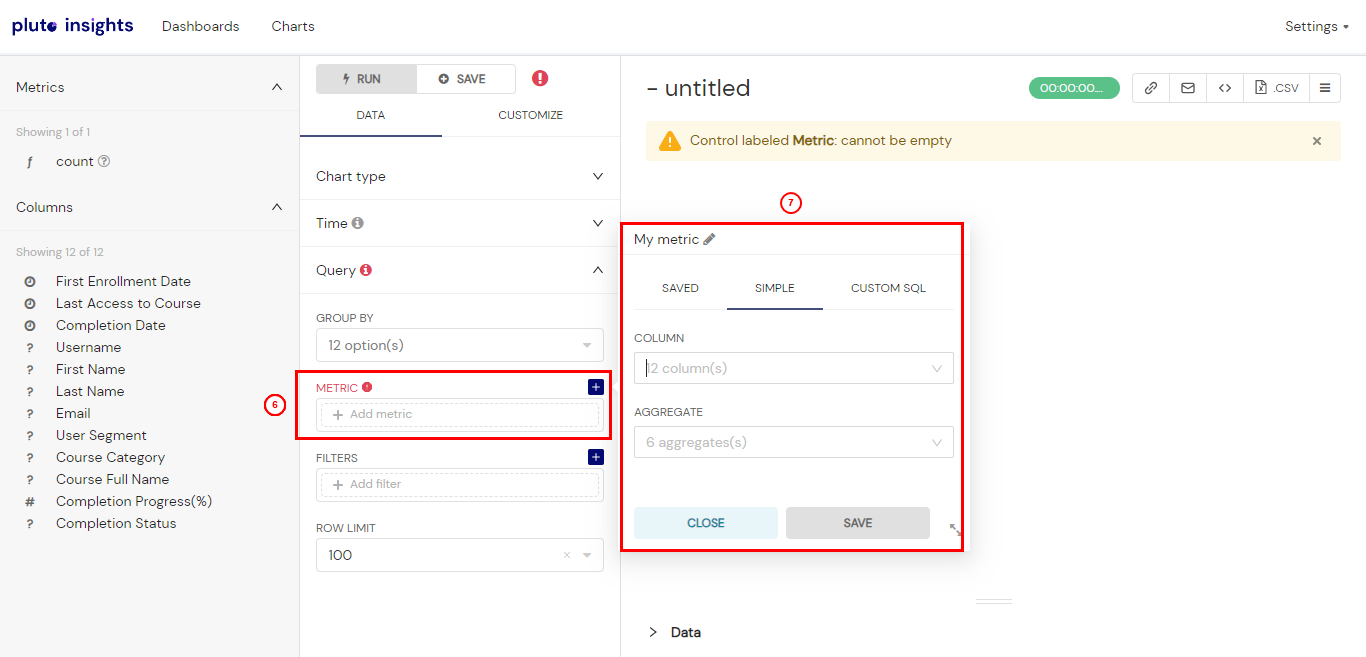 Step 8: Customize Your Chart,

> Explore the available customization options in Pluto Insights. You can adjust the color scheme, add a legend, set a title, and more.

Step 9: Run Query,

> Click on the "Run Query" button to generate your pie chart based on the parameters you've defined.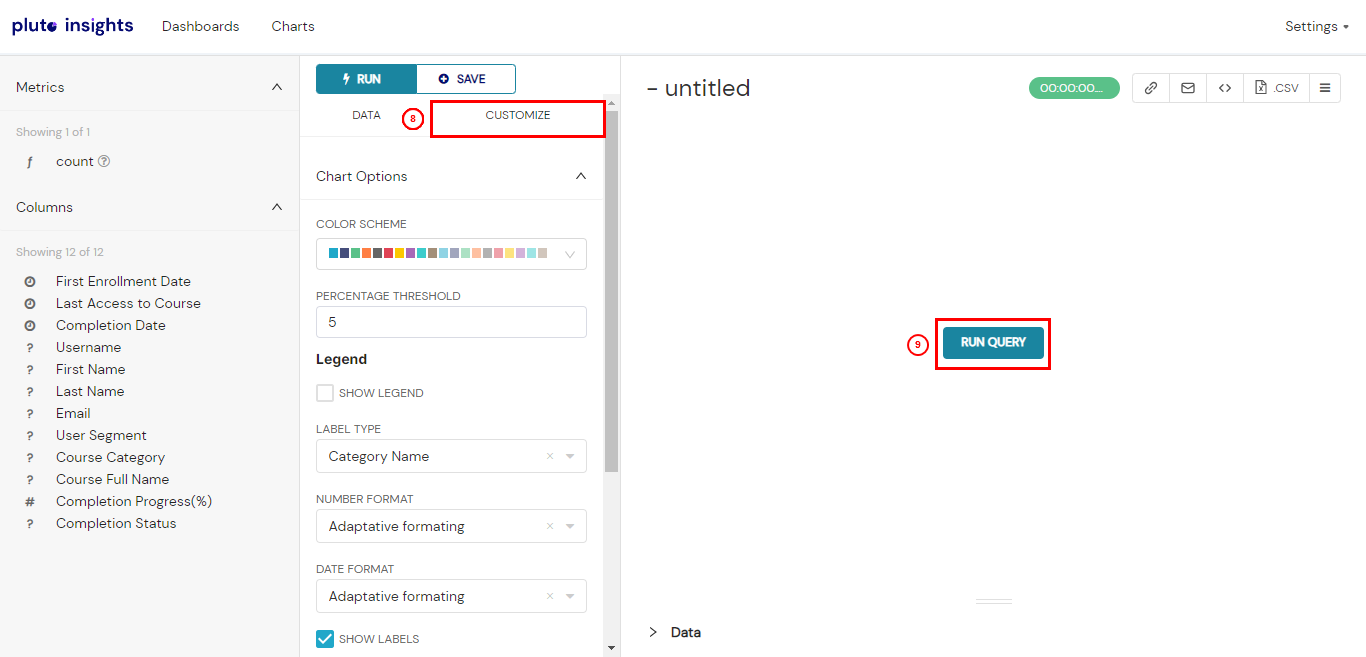 Step 10: Save Your Chart,

> To save your chart, click on the "Save" button.
> Provide a name for your chart and, if desired, a description.
> Click "Save" again.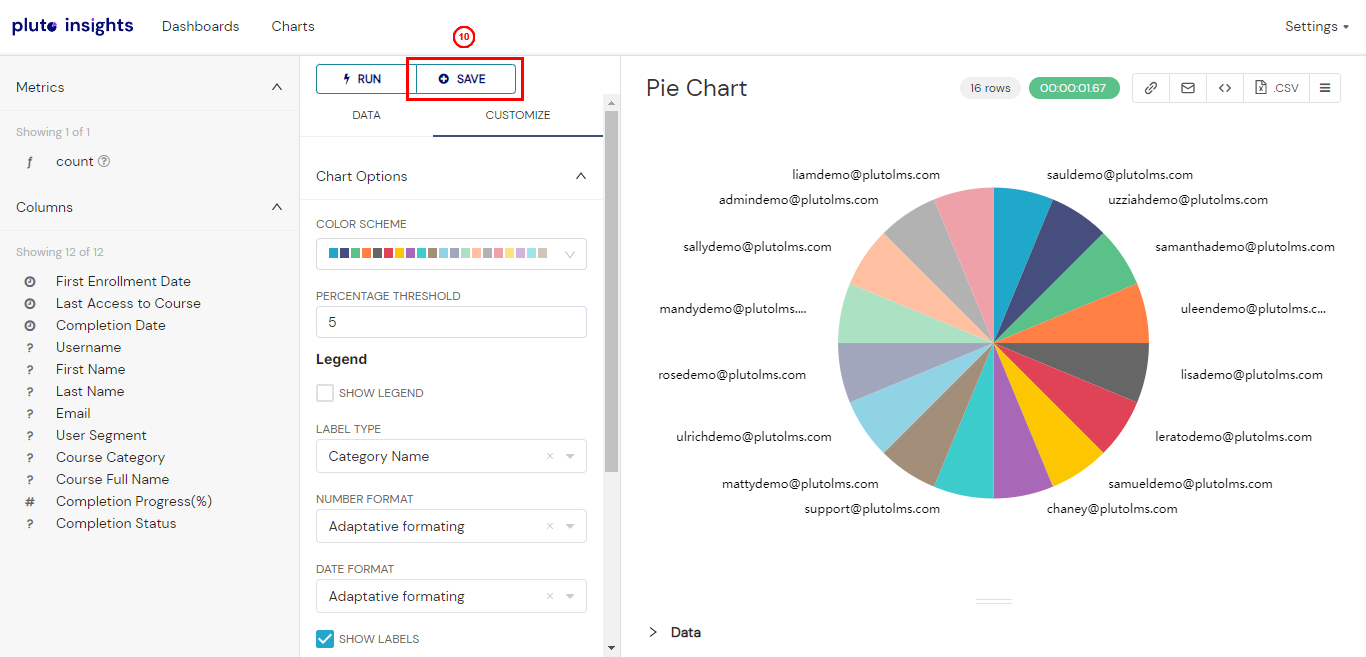 Your chart will now be accessible under the "Charts" section for future reference.